Winner of the 1987 Newbery Medal
Notable Book, American Library Association
Best Books, School Library Journal

Illustrated by Peter Sis

"An 18th century tale about the escapades of a resourceful orphan and a spoiled young prince...Full of adventure, suspense, humor, and lively characters." - The New York Times.

"A rollicking tale of adventure and mistaken identity." - Kirkus Reviews

"A top-notch read-aloud." - Bulletin of the Center for Children's Books

"Beneath the surface entertainment, the story also speaks of courage, friendship and trust." - The Horn Book

Made into the film Prince Brat and the Whipping Boy with George C. Scott. Produced as a musical by the Seattle Children's Theatre, with play and lyrics by Sid Fleischman.
 
Illustrated by Eric von Schmidt

The classic comic novel of the California Gold Rush. Widely read in 4th grade Gold Rush studies.

Made into the film Bullwhip Griffin.
Gold Medal, Boy's Club of America
Spur Award, Western Writers of America
California Reading Initiative Selection

"Praiseworthy has the ingenuity, the exuberance, and the charm of a tall-tale hero. A delectable story, told and illustrated with zest and gusto the the very last page." - The Horn Book
"Fleischman again unleashes his literary sleight-of-hand, dispensing laughs, a lickety-split plot, (and) vivid descriptions....If the shenanigans sound as frothy as a double cappuccino, the audience likely won't care, for with Fleischman on hand as barista, the recipe for effervescent fun is practically guaranteed." - Publishers Weekly

A young brother and sister on the run from a mysterious stalker "find refuge and rescue among the eclectic and eccentric characters of Venice Beach...Fleischman serves up an agreeable stew... and keeps the reader's attention focused on the plot, which leaps about good-naturedly and wraps up happily for all....Good, quick, and smart fun -- definitely." - Kirkus Reviews
 
"Take one orphaned boy, send him to relatives with whom his family has been feuding for generations, add a long-lost gold mine and a pair of no-good, lowdown dirty rascals and voila - the stage is set for a classic Fleischman tale...Readers can just sit back, relax and watch a master at work." * - Starred review, American Library Association's Booklist
Illustrated by Jos. A. Smith

"Classic Sid Fleischman: a quick read, with lots of twists, wonderful phrasing, historical integrity, and a bit of the tall tale thrown in." * - Starred review,School Library Journal

"A spirited novel set against the California Gold Rush...All the trademarks of one of Fleischman's rollicking yarns are here, from treachery aplenty and multiple cases of mistaken identity to colorful rascals - all delivered with a double helping of humor. Fueled by brisk dialogue and lively descriptions, the story moves as swiftly as a whitewater stream, carrying readers along for an exhilirating ride." * - Starred review, Publisher's Weekly
Illustrated by Peter Sis

"How often do you find a comic novel about triskaidekaphobia - fear of the number 13? Here's one. Buddy Stebbins, recently orphaned, goes to investigate the 13th floor of the Zachary building and time-trips into an amazing adventure." - The New York Times

"Liberally laced with dry wit and thoroughly satisfying - readers could hardly ask for more." * - Starred review, Publisher's Weekly

"...A thorougly entertaining page turner." - School Library Journal
Illustrated by Jos A. Smith
Notable book, American Library Association

Jake inherits a dog--who turns out to be half-wolf.

"The climax and resolution make for a wonderfully improbably, mesquite flavored farce...made vivid by Fleischman's command of simile and metaphor." * - Starred review, School Library Journal

"Fleischman wields his magic pen once again in a fast-moving, picaresque adventure...applause, applause for a great performance." - The Horn Book
Illustrated by Eric von Schmidt
A Nation Book Award Nominee
Boston Globe-Horn Book Award
Best Book, School Library Journal
Best Book for Young Adults, American Library Association.
Starred reviews, Booklist and School Library Jounral.

"Trickery, villainy, hairbreath escapes...The language is peppery and picturesque, the storytelling irresistably paced, the elaborate plot worked out with consummate precision." The Horn Book

Now available as an e-book!
illustrated by Eric von Schmidt

The comic adventures of a magician and his family giving shows from a covered wagon in the Old West.

"Skillfully written...wholly delightful...Not only funny but truly humorous. It is hard to imagine a child who would not enjoy it." - The Horn Book
Chancy and the Grand Rascal
Illustrated by Eric von Schmidt

Separated from his family during the Civil War, Chancy sets out to find his young sisters and brother.

"One of the finest and funniest juvenile books to be written in a long while...this is recommended reading for all who love to laugh." - New York Times

"Sid Fleischman is a master of the robust and garrulous tall tale. It's a romp." - Saturday Review
The Ghost in the Noonday Sun
Illustrated by Peter Sis

This swashbuckling tale of pirates, ghosts and trasure begins with the blast: "In which the wind is howling and through the door comes Captain Scratch, a villain if I ever saw one."

"...distinguished by originality, humor and saltiness of style." - The Horn Book

"A gold Captain Kidd medal to the author for a story that's pure gold!" - Publisher's Weekly

Made into a film with Peter Sellers playing the role of Captain Scratch.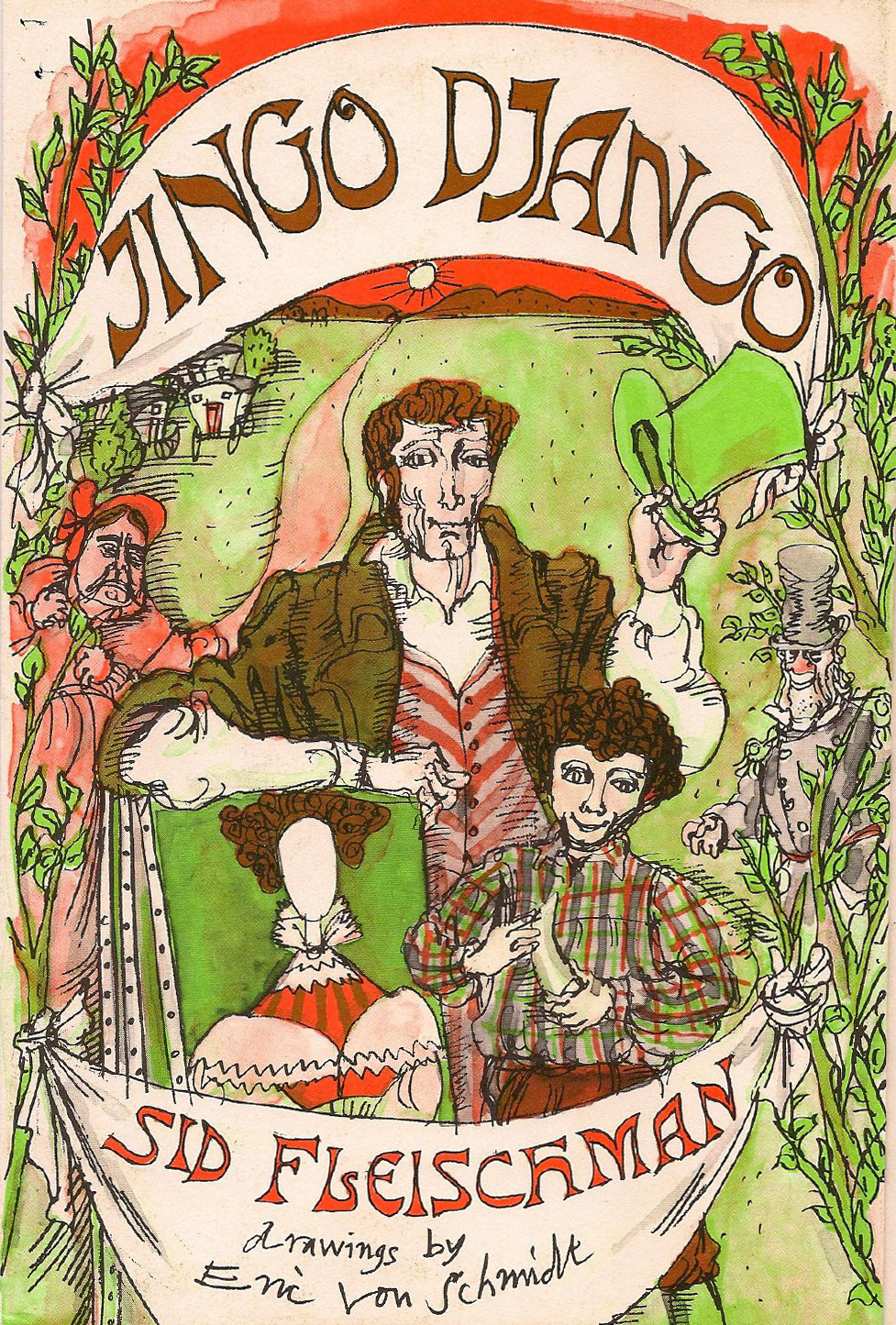 A robust tale of mysterious identity, snorting villains and a chimney-hid whale's tooth.

"A round of applause for Sid Flesichman! His wit and ability to create rollicking situations and comic characters reaches new heights in Jingo Django." - Publisher's Weekly

"This is vintage Fleischman...the work of a rare kind of storyteller, full of inventiveness, vivid writing, and genuinely comic characters," - Washington Post
Shorter fiction and picture books
Illustrated by Peter Sis

"Fleischman's rich prose and understated humor make for easy reading; the loss of a friend, a magical journey to set things right and an empowered heroine are emotionally right on target for the audience." - Publishers Weekly

"The tale twinkles with Fleischman's signature crisp language and laugh-out-loud wordplay...a quick, unique read." - School Library Journal
In Old Siam, a boy is punished with the gift of a rare white elephant. Punished?

"Fleischman, a Newbery medalist, excels in this funny, heart-warming tale..." The Washington Post
Illustrated by Marilyn Hafner

"A half dozen newly minted tall tales chronicle the merry havoc wreaked by a 'no-account little tornado' that touches down on Barefoot Mountain...Fleischman displays his nimble wit...(Hafner's) jaunty watercolor and pen-and-ink vignettes create a jaunty counterpoint." * - Starred review, Publisher's Weekly
Illustrated by Peter Sis
Redbook Children's Picturebook Award

Lonesome John's only friend is a scruffy scarecrow--until a stranger comes along.

"Together Mr. Fleischman and Mr. Sis have created a picture book that is, in its own offhand way, a seamless work of art." - New York Times

"The gentle humor of this unusual story should endear it to picture-book audiences...a lovely book." - Pointer, Kirkus Reviews
The Ghost on Saturday Night
Illustrated by Laura Cornell

The ghost of Crookneck John, a notorious outlaw, gets loose.

"A story hard to beat for exuberance of language, suspense and fun." - Publishers Weekly
 
The Entertainer and the Dybbuk
Fleischman's latest novel bristles with bitter humor. A second rate ventriloquist is possessed by a ghost -- a sharp-tongued Jewish dybbuk. The twelve year old boy had been murdered by Nazis during the Second World War. He has returned to seek revenge, and needs the ventriloquist to make his plan work.

Three starred reviews: Winner of a Sydney Taylor Award. "Belongs in every collection," says The School Library Journal.
Pirates, bandits, romance and revenge, all set in the lively rancho world of San Diego during the period of the war with Mexico.

"The novel moves at a breakneck pace, with background about the fascinating historical period woven in between jewel thefts, duels, and narrow escapes....punctuated by Fleischman's spirited prose and colorful dialogue." - School Library Journal
Illustrated by Peter Sis
Notable book, American Library Association.
Best Book, School Library Journal
Parent's Choice

A wood spirit, the Hey Hey Man, turns a pile of hay into a magical horse.

"A neatly crafted gem - a fine bit of entertainment." * - Starred review, ALA Booklist

"Sid Fleischman at his magical best." * - Starred review, School Library Journal

"A mixture of tall tale, folk tale, and downright magic." - The Horn Book
Me and the Man on the Moon-eyed Hourse
Kate's Secret Riddle Book
Jim Bridger's Alarm Clock
McBroom's Wonderful One-Acre Farm
This collection, with Quentin Blake illustrations, is comprised of three stories: McBroom Tells the Truth, McBroom and the Big Wind, and McBroom's Ear.
 
Three more tall tales: McBroom the Rainmaker, McBroom's Ghost, McBroom's Zoo.
The Bloodhound Gang
"The Bloodhound Detective Agency. Whenever there's trouble, we're there on the double!" Fans of the PBS series 3-2-1 Contact will remember the Bloodhound Gang -- junior detectives -- cracking cases with their knowledge of science. Sid Fleischman wrote the Bloodhound Gang mysteries for 6 seasons. Four of the cases were published.
The author's own highly engaging life, from being trapped in a magic trunk and sailing the South Pacific to starting his own magazine and working with Hollywood stars--not to mention writing children's books."
Pick of the Lists, American Bookseller
School Library Journal Best Book of the Year
ALA Notable Book
Booklist Best Book for Young Adults

"Newbery Medalist Fleischman seems to have been keeping his best trick up his sleeve all these years: himself. Funny, poignant, insightful and thoroughly entertaining." * - Starred review, Publishers Weekly

"From cover to cover, a treat." * - Starred review, Booklist

ALA Booklist Best Book for Young Adults
Editor's Choice, Booklist
 
Sir Charlie: Chaplin, the Funniest Man in the World
Abandoned by his alcoholic father, neglected by a mother fighting insanity, Charlie Chaplin rose from the London slums to dine on gold plates in his Beverly Hills mansion, only to be driven from the country that had brought him worldwide fame. Never were tragedy and comedy so inextricably mixed as in his too-outlandish-for-fiction life, told with Sid Fleischman's trademark wit and verve.

Publishers Weekly Best Children's Books list
Booklist's Editor's Choice list

"A book as entertaining as Sir Charlie himself." -- Booklist, starred review
"Delightful and informative." -- Publishers Weekly, starred review
"Fascinating." -- Kirkus, starred review
"Energetic charm." -- Booklist, starred review
A portrait of Samuel Clemens' younger years and how he became Mark Twain. As entertaining as the man himself.
"Twain's amazing exploits aboard stagecoaches and steamboats, making and losing fortunes, and trying to find his place in the world." --Starred review, Booklist
Escape! The Story of the Great Houdini
The life of the death-defying performer by a fellow magician and friend of Houdini's widow

FOUR starred reviews.

* "A teenage conjuror and former vaudevillian himself, Fleischman brings an insider's sensibility to Houdini's story..." - Publishers Weekly

* "What do you get when you put two prestidigitators, one a spellbinding escape artist, the other a magician with words, into a black hat and wave the wand? Abracadabra - a feat that's black magic." - Kirkus Reviews

* "Engaging and fascinating" - SChool Lbrary Journal

* Booklist

"Death-defying escapes, séance secrets, never-before-seen photographs - it's all here in print!" - The Horn Book
Works for Adults
 
Before Mr. Mysterious and Praiseworthy, Sid Fleischman wrote about a very different cast of characters--card sharks and cops, easy women and hard cases. Set often in the Far East he'd seen during World War II, making use of his knowledge of magic and swindlers, with a dose of the criminal world he'd encountered as a reporter, these were noir nesting boxes filled with double-crosses, gunshots, and nasty surprises. Stark House Press has just released a third two-for-one set, featuring Yellowleg (made into the movie The Deadly Companions) and a Sid Fleischman novel seeing the literary light for the first time--The Sun Worshippers. For readers 22 and up.
"Vintage charmers...wonderful noir dialogue...simply splendid entertainments." -- Booklist
Shanghai Flame/Counterspy Express
The Sun Worshippers/Yellowleg
Look Behind You, Lady/The Venetian Blonde
Danger in Paradise/Malay Woman
Mr Mysterious's Book of Magic